Southwest Florida's Premier
Outdoor Lighting Professionals
What We Offer
You've worked hard to plan your Sarasota or Bradenton home's outdoor spaces. From the right landscaping to create curb appeal in the front yard to a beautiful outdoor living space or pool deck in the back, you have taken the time to transform your yard into something aesthetically pleasing and functionally beneficial.
The missing element to make this space everything you've dreamed it can be is outdoor landscape lighting. Pleasant Lightscapes offers a full list of outdoor lighting solutions in the Sarasota/Bradenton region, with a team of expert designers and installation pros ready to serve your needs. From increasing curb appeal to adding safety to your home after dark, our team is ready to assist.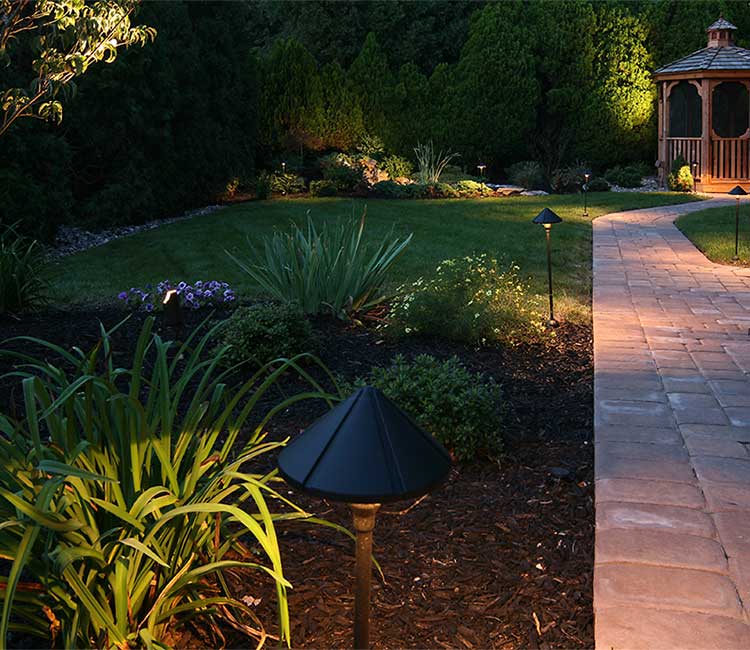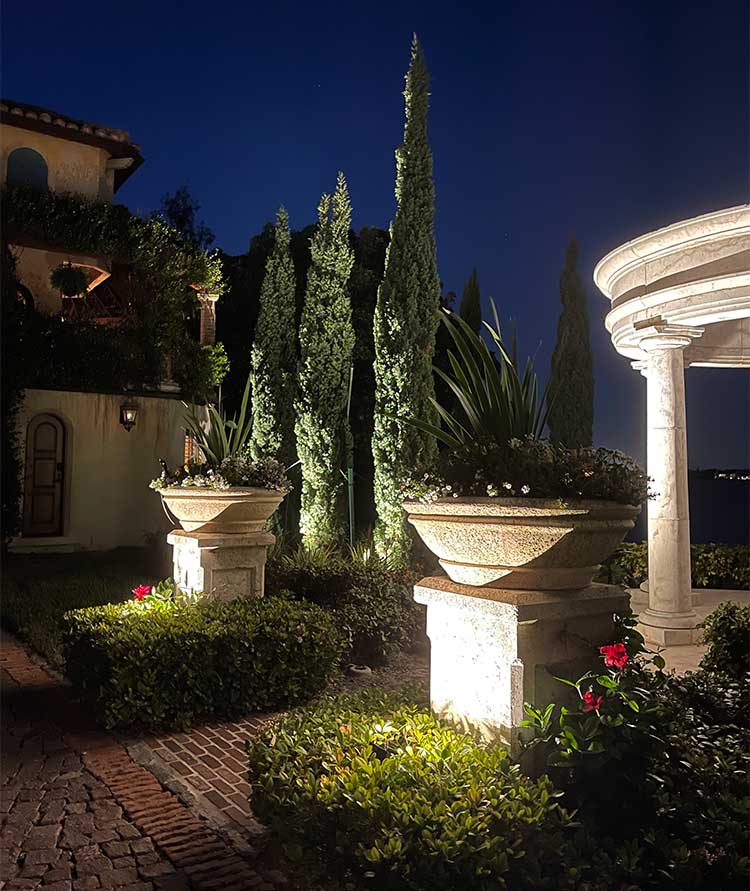 ENHANCING Appeal and Safety
Landscape Lighting to Make Your Home's Exterior Shine
Your home's landscaping should be a focal point to anyone who drives by, but when the sun sets, it can be hard to see. Professionally designed landscape lighting from Pleasant Lightscapes can enhance the beauty of your home after dark. It can also add safety to your space, eliminating dark areas that can be a draw for potential thieves. In the Sarasota/Bradenton area, Pleasant Lightscapes provides outdoor landscape lighting design services that will make your home more appealing and add a layer of safety.
Our full landscape lighting packages include everything you need to light your home's exterior. This starts with the design process, where our team will work with you to determine where you need lighting to artfully highlight your home's best elements. We will then install your lighting, so your home will glow, and we offer repair services should problems arise down the road. If you are ready to update your home and make it more attractive, while adding a layer of safety after dark, a full landscape lighting package is a good choice.
Comprehensive Outdoor Landscape Lighting Options

At Pleasant Lightscapes, our lighting experts not only offer outdoor landscape lighting design and installation services for your home's exterior, but we have a full list of outdoor lighting solutions. Our goal is to make your home more enjoyable and beautiful, even at night. In Sarasota/Bradenton, backyard pools are a common sight, and they need the right lighting for nighttime swimming. Our durable landscape lighting will create a welcome glow, all while protecting the safety of your outdoor space.
If your outdoor living space has paths and walkways, adding illumination along these paths makes them safer and more attractive. This ensures that you and your guests can safely use your outdoor space, even at night, because the walkways are easy to find and any uneven ground is visible. Outdoor lighting also improves the safety of your home in other ways by eliminating the draw to potential burglars who like to hide in the shadows. With our help, you can also add lighting to your gazebo, porch, or patio to create the right ambiance for nighttime parties.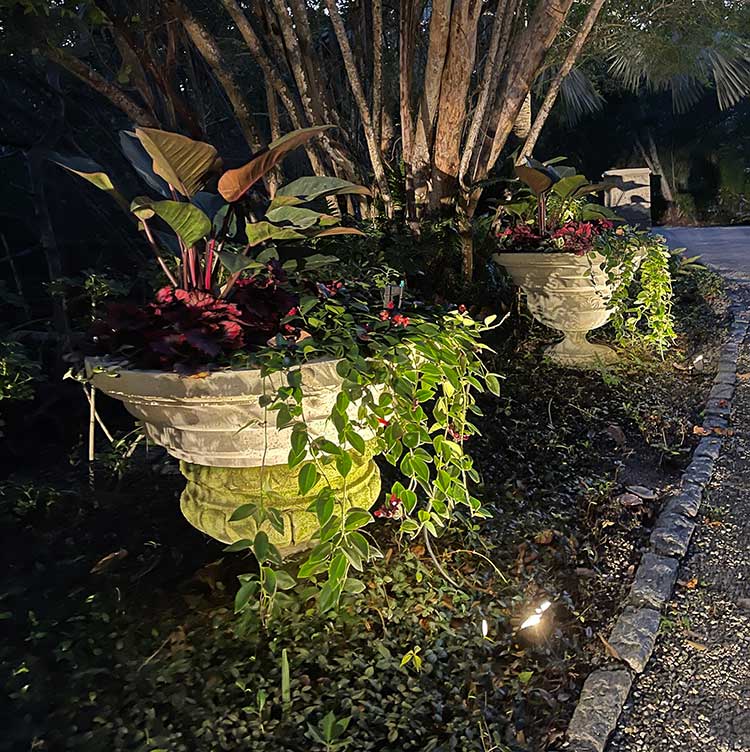 AVOID ENERGY WASTE AND COSLTY REPAIRS
Keep Your Home's Lighting in Good Repair with the Right Maintenance
Like any element of your home's landscaping, your landscape lighting may need occasional maintenance and repair, and we're here to help. Our Sarasota/Bradenton outdoor landscape lighting team will evaluate your lighting and its needs, then offer a maintenance agreement package that will keep it beautiful. With regular maintenance, you won't have to worry about burned-out bulbs or unexpected repairs. We will be there regularly to inspect your lighting and ensure everything's ready to serve your needs well.
Why Pleasant Lightscapes for Sarasota/Bradenton Outdoor Landscape Lighting Solutions?
Pleasant Lightscapes has a team of lighting professionals who understand the design and the mechanics of outdoor lighting. We will take your ideas and transform them into beautiful, functional landscape lighting designs. We know how to position lighting well to highlight the best aspects of your home, and we treat you and your home with a high level of professionalism. You can trust Pleasant Lightscapes to provide responsive service, accurate quotes, and efficient work.
Reach out to Pleasant Lightscapes today to learn more about the outdoor landscape lighting design process, and see how you can transform your Sarasota/Bradenton area home with beautiful, professionally designed outdoor lighting.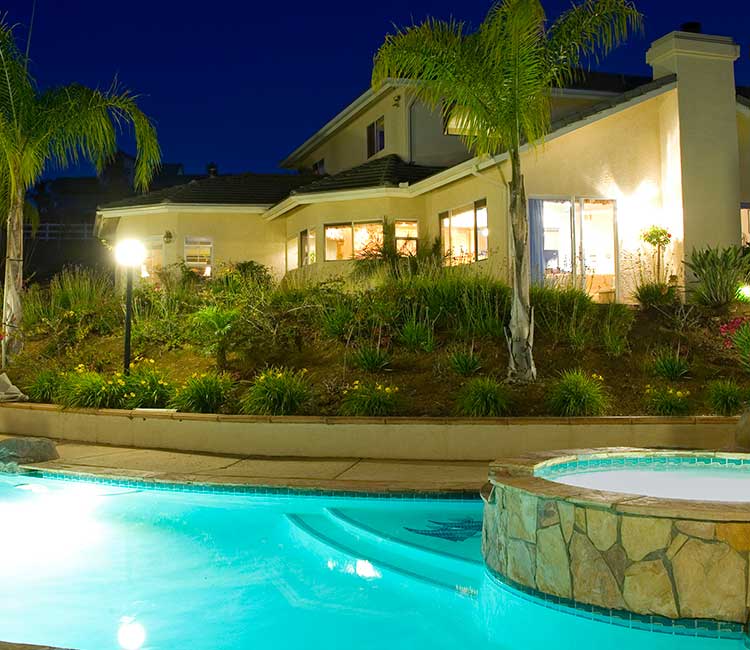 Schedule a Free Demonstration & Consultation
We'd love to talk to you about your project. Send us your information and we'll schedule a good time for a consultation and demonstration.