Outdoor Lighting Services in
Sarasota / Bradenton, FL
CREATING the outdoor space of your dreams
Full Home Landscape Lighting
Professionally designed landscape lighting showcases your home's best features. From artfully illuminating trees to using light and shadow to create visual appeal, you'll be amazed at what our lighting designers can do for your home! We'll show you how to use landscape lighting to enhance your curb appeal and give your property a warm and welcoming look and feel.
Landscape lighting also adds an element of safety and security to your home. It brightens shadowy areas, making them less appealing to would-be intruders. Lighting sidewalks and paths also helps guide visitors, making them feel more comfortable as they approach your home.
You work hard to make your home beautiful, so don't let it fade into the darkness. Our team of lighting designers and installation experts will help you create the outdoor space of your dreams!
PERFECT LIGHTING SOLUTIOns for outdoor areas
Pool and Patio Landscape Lighting
Pleasant Lightscapes has a team of lighting professionals who understand the design and the mechanics of outdoor lighting. We will take your ideas and transform them into beautiful, functional landscape lighting designs. We know how to position lighting well to highlight the best aspects of your home, and we treat you and your home with a high level of professionalism. You can trust Pleasant Lightscapes to provide responsive service, accurate quotes, and efficient work.
Reach out to Pleasant Lightscapes today to learn more about the outdoor landscape lighting design process, and see how you can transform your Sarasota/Bradenton area home with beautiful, professionally designed outdoor lighting.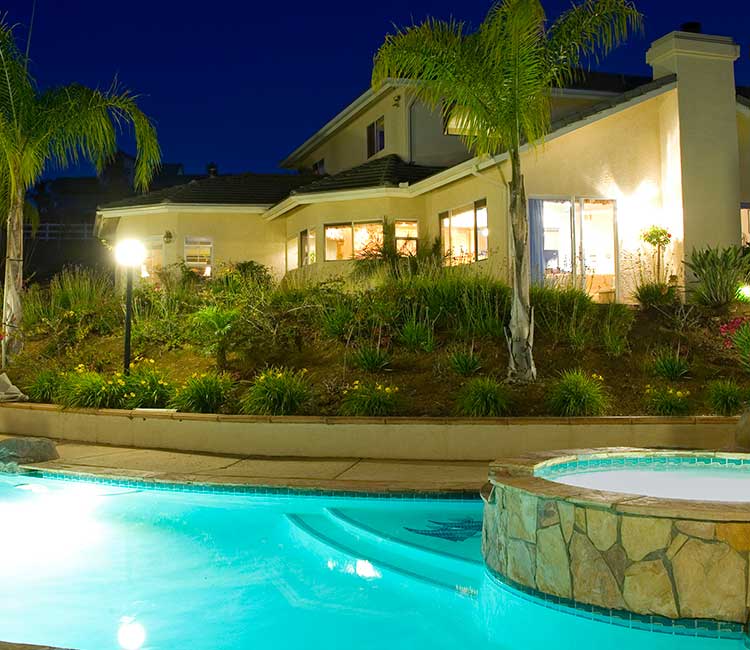 Unique LED lighting solutions
Garden and Path Landscape Lighting
From giving your garden a whimsical appeal to illuminating the way along sidewalks and paths, our lighting experts can help make your outdoor dreams come true. Creative landscape lighting will increase your home's curb appeal and show off your unique style. Whether you want to draw attention to your prized flowers or a unique water feature, our lighting designers will show you how to do it.
Garden lighting requires an expert touch. We'll ensure your garden lights are properly placed and won't harm your outdoor plants. Whenever possible, we use low-voltage LED lights, minimizing both power use and heat output. 
Whether you want to make a grand statement or create a quaint and understated appeal, our lighting professionals will help you embrace your unique lighting style.
Schedule a Free Demonstration & Consultation
We'd love to talk to you about your project. Send us your information and we'll schedule a good time for a consultation and demonstration.